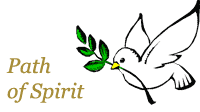 Aug 25, 2019
To Whom do I pray?
Silence & spontaneous prayer
Saying For Today: "Essentially, the whom you pray to is the whom you pray from."
Aug 24, 2019
direct knowing of the Mystery
the way to before I
Saying For Today: "I prefer simply to inspire others to love God as they best understand God, and honor the Beloved in every being. Why talk about what cannot be talked?"