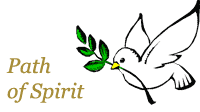 Feb 21, 2019
a hiding place ~ the gentle embrace
contemplations on solitude
Saying For Today: "Hiding away, alone and quiet, then, is first an affirmation, not a denial. We are not saying 'No' to the world, we are affirming the world is not simply what it appears to be, the world is the arena of Something more."
Feb 19, 2019
our face and our Face
a self-wholly undivided
Saying For Today: "Right here, going deeply into the humanness you are, including all you feel and see, with no self-criticism, what is the beauty you find? Here, human and more meet, yourself and every being too, in a differentiated and primordial unity. Love is, and Love happens. "