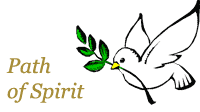 Feb 25, 2017
The Meaningful Life
Awakened To Heaven All Around You
Saying For Today: "If a person lives a meaningless life, that is for he or she is living apart from life, merely as a biological organism, regardless of how presented well. By touching life anywhere, with anyone, at any moment, there is fullness of life. "
Feb 22, 2017
Making Love Beyond All Places
Beyond the Edge of Religion
Saying For Today: "Sated by the body of religion, first coming, one is led to and beyond the edge, to an inner glow that manifests in a brightness of face and flesh."