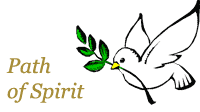 Oct 11, 2019
Three hairs to no hair ~ Yeah!
the wisdom of Simplicity
Saying For Today: "All passes along with you, as you yourself are passing through with all."
Oct 9, 2019
Awful Movie but Wonderful Togetherness
the we that is one
Saying For Today: "When oneness is alive in you, you cannot not see it, and you see it effortlessly, even as you have always been it effortlessly. Oneness is, then, seeing itself."