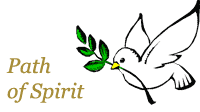 Oct 19, 2018
Home ~ here & here & here
contemplative spirituality and communion with place
Saying For Today: "All this is possible, for Home is not a place to get to, but a Presence we have never, even for one moment, been away from."
Oct 18, 2018
longing & belonging & Grace ~ Sea & Spirit & Silence (No. 3)
Saying For Today: "Love, as all else, is expressed by the embrace, more or less, of consciousness, expanding from matter, increasing to an embrace beyond even embrace, Spirit."